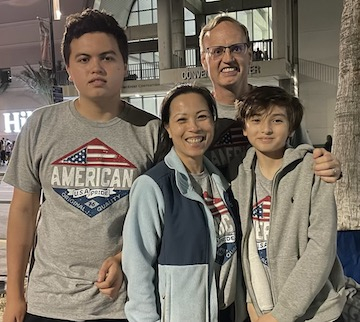 Mary Pollett's Bio
Mary Hiền Pollett is running for Evergreen School Board in 2022 because she knows the world our children grow up in is becoming more unpredictable. In these challenging times, we need compassionate leaders with a balanced and broad perspective who ensure the safety of our students and staff. We need leaders dedicated to education. We need Mary Hiền Pollett.
Many know Ms. Pollett as an award-winning teacher and principal. Her dedication as a teacher, including years at Leyva Middle School, and principal at Yerba Buena High School, earned her accolades from the City of San Jose, Santa Clara County Board of Supervisors, the California State Assembly, California State Senate, and US Congress member Zoe Lofgren.
Before these educational successes, Ms. Pollett was a 20-year-old immigrant who knew no English and had nothing but the clothes on her back. While attending night school and community college, Mary worked as a manicurist and seamstress. With much perseverance, she was accepted to UCLA. She earned her Bachelor's Degree in Mathematics and her Master's Degree in Administration (Education).
She was taught to value hard work, the importance of education and the power of community. Ms. Pollett is grateful for everything our country has given her. She is dedicated to supporting our children so that they can have a future filled with success and joy.
Please vote for the leader our Evergreen community needs -- Mary Hiền Pollett.
AWARDS AND RECOGNITION
Warrior Pride, Yerba Buena High School, 2013
Commendation: US House of Representative Zoe Lofgren, 2018
Commendation: California State Assembly, Ash Karla, 2018 & 2020
Recognition: San Jose Councilwoman, Sylvia Arenas, 2020
Commendation: State of California Senate, Jim Beals, 2020
Recognition: Member of Congress, Zoe Lofgren, 2020
Commendation: Santa Clara County Supervisor, Dave Cortese, 2020
Commendation: Board of Supervisors, Otto Lee, 2021
SERVICE ACTIVITY:
Western Association of School and Colleges (WASC) Visiting Team, Delhi High School, California, 2021
WASC Visiting Team, Dixon School, California, 2018
Initial Planning Curriculum (IPC), East Side Union High School District (ESUHSD), California, 2014- 2019
Algebra I and Algebra II Benchmark Committee member, ESUHSD, California, 2008 - 2013